3D Printing Upcoming Shows | Gizmo Dorks
Upcoming 3D Printing Conventions & Shows
As 3D printing is starting to go mainstream, there are now many 3D printing conventions and shows taking place around the world for anyone interested in this amazing technology. The team at Gizmo Dorks has done all the legwork for those of you interested in these events as we've collected information on a few of the top 3D printing shows, exhibits and conventions taking place throughout the remainder of 2015.
TCT Show & Personalize – Birmingham, UK: September 30 – October 1

The TCT Show & Personalize is one of the leading events dedicated to 3D printing. This event will be held at the NEC Birmingham Trade & Consumer Exhibition Centre. There are no entry fees as this event is free for all to attend. This event showcases dozens of exhibitors and world-class speakers and serves as a launching pad for groundbreaking innovations, applications and technologies. This is a must-attend event if you're interested in the latest developments in 3D printing and product development technology.
3DPrinting@home with CEATEC – Tokyo, Japan: October 7 -10

CEATEC JAPAN is the largest annual consumer electronics and IT exhibition in Japan that brings together leading companies in advanced technologies and electronics. This year, CEATEC is partnering with 3D Printing@home to introduce the latest advancements and technologies in 3D printing. This exhibit will demonstrate how 3D printing is revolutionizing industries and making people's lives better.
The CEATEC JAPAN exhibition will be held at Makuhari Messe 2-1, Mihama-ku, Chiba Japan. All visitors are required to register online or at the gate. Those attending the event on October 10th are admitted for free. The on-site general admission fee is JPY1000 and JPY500 for students. Registration will provide you with an entrance pass and allow you to reserve a seat for conferences and sessions.
3DPeurope – Brussels, Belgium: October 18 – 19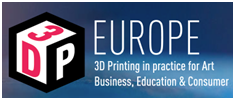 3DPeurope is a 3D printing show that is open to anyone interested in the practical use of 3D printing. This event will be held at Tour&Taxis – a historic site in Brussels that is a former train station that is now being used for cultural events. Those interested in attending this event can register and buy tickets online. This will be the very first 3D printing show ever to be held in Belgium. Entry fees vary depending upon whether you plan on attending the show only or both the show and conference. More information about registration and ticket purchases can be found here.
Inside 3D Printing Santa Clara – Santa Clara, CA: October 20 – 22

Held at the Santa Clara Convention Center, Inside 3D Printing Santa Clara features tutorials and conference sessions led by industry leaders that demonstrate the latest 3D printers and services. This conference features 70+ exhibits from across the globe and more than 80 speakers who provide coverage of industrial and consumer topics and strategies.
Inside 3D Printing Santa Clara is open to everyone over the age of 16. Entrance fees range from $10 for a networking pass to $1499 for a "Gold Passport" purchased on-site. More information on registration and fees can be found here.
3D Printing USA 2015 – Santa Clara, CA: November 18 – 19

Also held at the Santa Clara Convention Center, 3D Printing USA 2015 is a conference and exhibition that covers the current and future markets and technologies of 3D printing. The speaker program consists of over 30 speakers who cover a wide range of 3D printing-related topics from material development & requirements to end-user needs. Registration is required in order to attend. The fees vary but purchase of a 2-day conference pass provides you with access to all co-located conference sessions and the joint trade show. Registration and fee information can be found here.
Whether you're a 3D printing veteran or someone who is simply interested in the amazing world of 3D printing, these upcoming 3D printing conventions and shows are sure to be nothing short of amazing! The team here at Gizmo Dorks is fascinated by 3D printing and offers a wide variety of 3D printing materials of the best quality. Regardless if you need PLA filament for a project you're planning or need a particular color of ABS filament, you're sure to find just what you need at Gizmo Dorks!